HIRE THE BEST
PLUMBING SERVICES
IN TOWN
Expert Plumbers
at your Doorstep
We can install a water heater, water softener, and water filtration system to solve clogged drain issues. We can also repair and maintain your general plumbing. If you have a clogged drain or pipe, we can solve them in the blink of an eye!
We religiously upgrade our equipment and learn new concepts in plumbing systems every day. We continuously train our plumbers to troubleshoot and deliver quality plumbing repair. Our plumbing services in Utah expose them to a variety of jobs in both residential and commercial areas.
Marlin Plumbing believes that plumbing problems should be one less thing to worry about for busy people like you. And you shouldn't have to delay getting professional help just because it costs an arm and a leg. Our services come at an affordable price for Utah residents.
Our team provides high-quality work for reasonable rates– a true bang for the buck! You can sit comfortably on your couch while we worry about your plumbing issues on your behalf.
Although the system can get complex considering the hot and cold water supply networks, all in all, residential plumbing is manageable and does not require frequent maintenance.
Commercial plumbing is far more complicated than residential plumbing. Not all experienced plumbers can perform the services under this type. It requires a specific set of skills and a higher level of expertise.
Water heaters operate by a heat transfer process in which an energy source is used to heat the water at a high temperature. Water heaters are generally installed in homes for various purposes such as cooking, bathing, space heating, and cleaning. Similarly, in commercial spaces, the steam produced by hot water is used for many purposes.
You Name It;
We'll Ace It
There's no plumbing-related issue our experts cannot fix. Just give us a call!
Services Offered at
Marlin Plumbing
Water filtration systems are installed as a precautionary measure to maintain the quality of drinking water. Although the USA gets a clean tap water supply, it can still get contaminated by certain elements, which can lead to countless diseases.
It wouldn't hurt to clean your water further right? After all, it's imperative that water quality be maintained to keep your and your family's health in optimum condition at all times.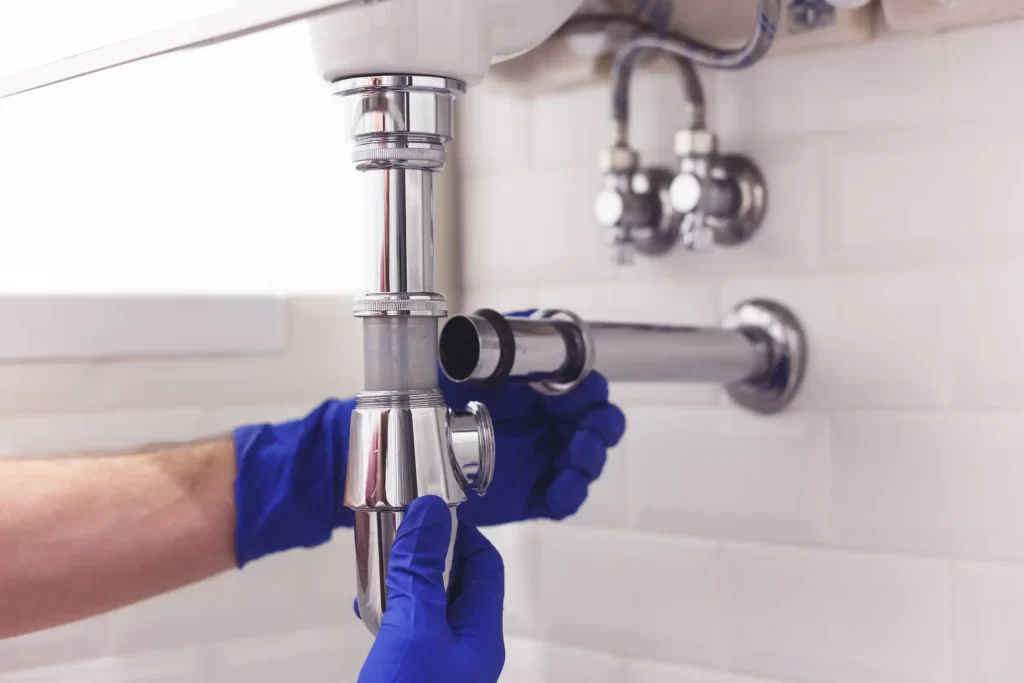 Imagine having nowhere to relieve yourself because your water lines are failing you. Too much of a hassle, isn't it?
Bathroom plumbing is concerned with all water services necessary for your comfort room. This involves the installation, maintenance, and repair of your toilet, tub, sink, shower, drain, and faucet.
Because of daily use and inevitable wear and tear, bathroom plumbing can deteriorate over time. This can ultimately cause significant damage to your septic systems. You must have your local plumbing services St. George and tend to it every once in a while to keep it in pristine condition.
Tubs, drain pipes, and sinks often clog due to the accumulation of toothpaste, hair, soap, or debris. The same thing happens to kitchen sinks when food particles get stuck in the drain pipes. What you need is proper cleaning-- and we don't mean quick washing, but the kind that gets through all the nooks and crannies of the pipes.
Our great plumbing services at Marlin Plumbing can do exactly the right cleaning that will restore your drainage.
Sewer lines usually get damaged due to corrosion. Pipes degenerate with time and may need immediate repairs. Tree roots, clogging, and extreme temperature levels can also damage them. The damages can compound over time and result in a disastrous situation.
So here's a suggestion: The moment you notice a leak in your sewer pipes, dial that phone right away. We're ready to take your call!
This is the sweeping umbrella concept. The mother of all things, plumbing.
All plumbing treatments fall under the category of water treatment systems. These systems exist because plumbing problems are inevitable and can grow over time. Such systems can dramatically change the quality of your water and make your daily living much easier.
It's not enough to have someone who knows a little about plumbing repair. You need guidance from a seasoned company that offers the best plumbing services St. George has to offer..
Call us now, and our representatives will take you through the entire process.
Get the Best,
From the Best
We offer the best plumbing services in Utah! So why wait any further? Give us a call and have our experts solve your problem!
Plumbing services now at your doorstep!
"*" indicates required fields
Are you a professional plumber service provider?
Marlin Plumbing is a highly-professional plumbing service provider. We have licensed, experienced experts on board, so you don't need to worry about our work quality.
What can I expect from Marlin Plumbing Services?
You can expect top-notch service every time. All you need to do is call us, describe your issues, and we will take care of the rest.
We, the finest plumbers in Utah intend to deliver premium quality plumber service across different communities in St. George, Utah. Our work results and clients' satisfaction rates speak for our credibility.
What types of services do you offer?
We do all essential residential and commercial plumbing-related tasks. We can also install water softeners, heaters, filtration, and other plumbing systems in your homes and commercial spaces.
Can I get a same-day plumbing service?
If you have an immediate concern that requires urgent assistance, we can provide you with same-day services.
How much do your plumbing services cost?
The rates vary from project to project. Contact us today to get a detailed quotation based on your needs.
Do you provide free estimates for your services?
Yes, we do. Get a free consultation and estimate for any of our plumbing services.
What areas in Utah do you serve?
Our services are available in St. George, Utah. We also serve in the nearby areas. Ring us up and tell us where you are; we'll see what we can arrange.